COVID-19 RT-PCR Test For All
Yale University has authorized BioExcel Diagnostics Laboratory to perform the SalivaDirect™ Covid-19 Test Method.
As a CLIA-certified high-complexity molecular diagnostic laboratory, we are dedicated to making testing available for everyone regardless of the symptoms.
• Highly accurate and reliable test
• FDA Emergency Use Authorized RT-PCR test
• Self-registration and collection
• No doctor's appointment or referral required.
• Most results within 24 hours
• The most affordable RT-PCR test
• Meets air travel requirements for most states and countries
• Please check your destination's requirements before signing up
• Have questions about our COVID-19 testing? Call (832) 804-8996
For more information about Yale's SalivaDirect, click on the following link to visit Yale's SalivaDirect™ website.
BioExcel Diagnostics
has been authorized to offer the
SalivaDirect™ COVID-19 diagnostic test
, developed by the Yale School of Public Health (YSPH). This test has received Emergency Use Authorization (EUA) from the United States Food and Drug Administration (FDA).
SalivaDirect™
is a real-time reverse transcription-polymerase chain reaction (
rRT-PCR
) test intended for the qualitative detection of nucleic acid from
SARS-CoV-2
in
saliva
collected without preservatives in a sterile container in the presence of a trained observer (adult trained on how to collect saliva samples) from individuals suspected of COVID-19 by their healthcare provider.
This test is also for use with saliva specimens that are self-collected by individuals 18 years of age or older unsupervised at home and dropped off at a collection site, using the SalivaDirect Unsupervised Collection Kit when determined to be appropriate by a healthcare provider or unsupervised at home using the SalivaDirect At-Home Collection Kit and mailed to a testing laboratory, when used consistent with its authorization.
This test is also intended for use in individuals without symptoms or other epidemiological reasons to suspect COVID-19, when tested at least weekly and with and no more than 168 hours between tests using supervised saliva collection or unsupervised saliva self-collection with the SalivaDirect Unsupervised Collection Kit or the SalivaDirect At-Home Collection Kit.
This product has not been FDA cleared or approved but has been authorized for emergency use by FDA under a EUA.
This product has been authorized only for the collection and maintenance of saliva specimens as an aid in the detection of nucleic acid from SARS-CoV-2, not for any other viruses or pathogens; and
The emergency use of this product is only authorized for the duration of the declaration that circumstances exist justifying the authorization of emergency use of in vitro diagnostics for the detection and/or diagnosis of COVID-19 under Section 564(b)(1) of the Federal Food, Drug and Cosmetic Act, 21 U.S.C. § 360bbb-3(b)(1), unless the declaration is terminated or authorization is revoked sooner.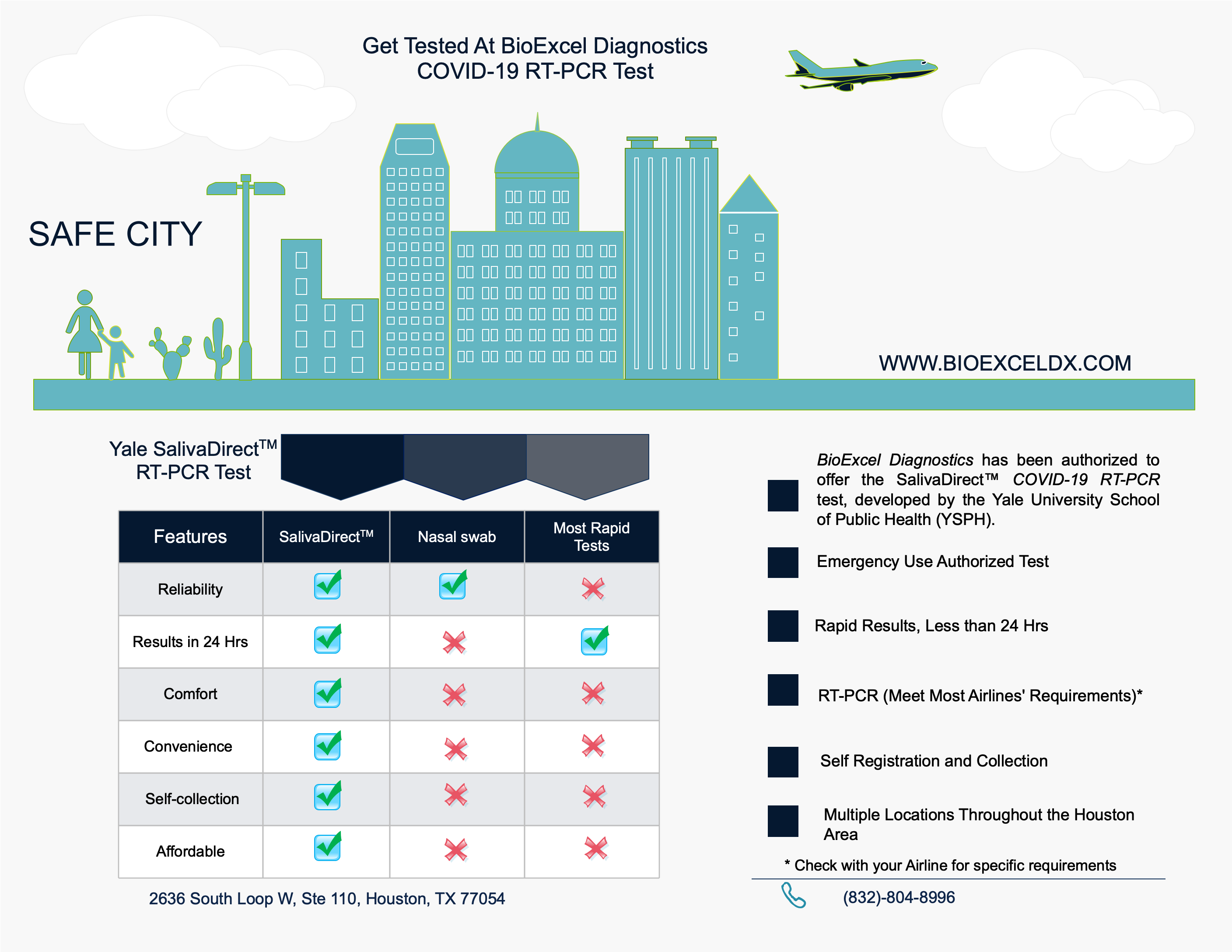 For Enterprises & Schools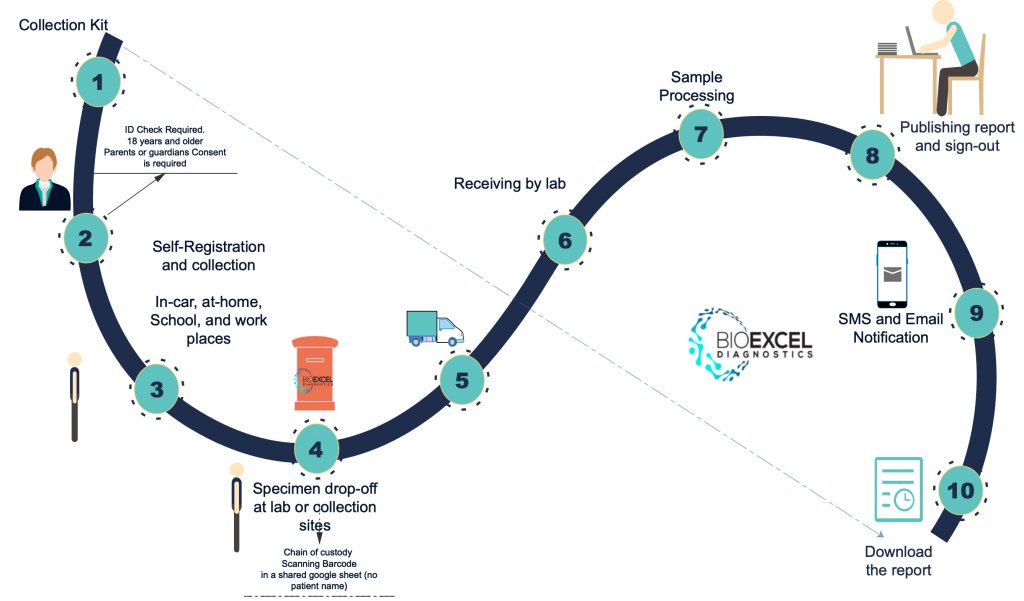 BioExcel Diagnostics is currently accepting orders for both SalivaDirectTM and BioExcel Diagnostics COVID-19 RT-PCR tests from approved healthcare providers. If you are interested in partnering with BioExcel Diagnostics, please contact us by submitting an inquiry or emailing us at support@BioExceldx.com.
Frequently Asked Questions